FinalBurner Free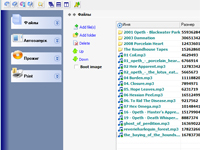 Отлично записывает компакт-диски, в том числе аудио CD, видео DVD и Blu-ray. Также программа может помочь подготовить оформление для записанных материалов. При этом FinalBurner работает достаточно быстро и не перегружена дополнительными, часто не востребованными функциями. Недостатком можно назвать отсутствие поддержки работы с образами дисков.
Поддерживаемые ОС: Win2k/NT, Win XP, Win Vista.
Язык: English / Русский
Программу можно скачать на сайте: http://www.protectedsoft.com/download.php
Описание на английском:
FinalBurner is a freeware alternative to expensive CD and DVD burners. This 4-Mb application enables you to create data, audio, DVD disks and burn them onto any type of media, such as CD R/RW, DVD+R/RW, DVD-R/RW, DVD DL. You can also create an ISO image of a disk. FinalBurner combines all the elements of a professional CD recorder, delivered with a convenient user interface that pleases the eye.Final Burner is designed without any extraneous features. It restricts the complex process of CD recording to a few mouse clicks, which is ideal for typical users. Now you can produce high quality output on the fly without any deep knowledge of CD recording technologies. Power users will benefit from the opportunity to be in full control of many settings that affect the burning process and the quality of the result. And, of course, it's free!Depending on the project type (audio, video, etc.), you click on the appropriate tab and open its window, where the project is displayed as a folder tree. Then, using the built-in explorer, you add a file or several files to the project, select the drive, writing speed, and start the burning process. While the recording is in progress, you can view its current status at the bottom of the window. FinalBurner is available for Windows NT, 2000, XP, 2003.
All features in detail:

Create Data-CDs/DVDs//BLU-RAY
Burn any Data on CD-R/CD-RW/DVD+R/DVD-R/DVD+RW/DVD-RW/DVD+R DL/BLU-RAY
Autorun menu designer
DVD-Video authoring and mastering
Burn mp3-CDs to store many audio files on one single disc
Create bootable discs
Drag and drop files directly from any Windows Explorer window
Burn on-the-fly and with buffer-underrun protections
Quick- and full-erase disc
Create Audio-CDs
Create Audio-CDs from mp3, wav, ogg and wma* files
Play audio-files with integrated audio player
Rip Audio-CDs
Rip tracks from any audio-CD to wav or mp3
Burn ISO files to CD
Create your own ISO files
Import previous sessions
Supports most IDE, USB, Firewire and SCSI drives
ASPI not required for NT/2000/XP
100% freeware - no adware or spyware
Operating systems: Windows 2000/XP/2003 Server.